The breed of dogs collectively known as pit bulls were once known as America's nursery dog.  When a child was born, a pit bull puppy was acquired.  The idea was that the kid would have a loving and protective companion until the dog died of old age, usually when the newborn had grown into their teen years.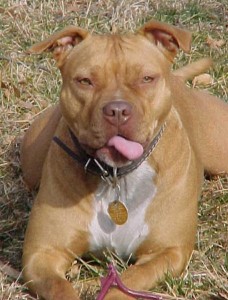 (Please click on all pictures to see the largest version.)
One thing owners of pit bulls report is that the beasts have an almost supernatural ability to recognize when someone means harm to their owners.  Even when a criminal is trying their best to gain the trust of the intended victim, the pit bull can sometimes see through the facade to recognize the intent for violent attack.
That happened recently, as this news story reveals.  A woman walking her dog approached a bicyclist in obvious distress, only to be shocked when her pet exhibited extremely protective behavior.  She received a further jolt to her preconceptions when the supposedly injured and helpless cyclist reacted to the snarling dog by leaping up from the ground, only to straddle his pedal powered contraption in an effort to escape the jaws of justice.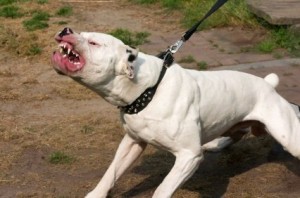 And escape he did, as the pooch was anchored to the petrified woman via a leash.
The fact that the dog could not pursue the erstwhile criminal is all to the good.  If the cyclist had been bitten, then the news story would be about a crazed and enraged pit bull that had to be destroyed after suddenly "going off" and attacking a helpless man, instead of a loyal and loving family pet that was going all out to save the innocent.  Makes me wonder if many of the incidents which caused people to conclude that the breed was unstable and prone to violence was due to dogs trying to protect their families.