I currently own two dogs, both rescues I found injured and lost on the streets.  One is a tiny and elderly Shih Tzu named Fuzzball, the other a skinny runt of a Pit Bull named Chris.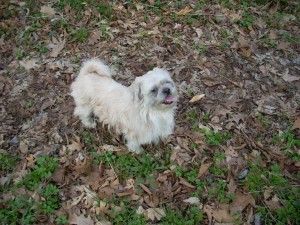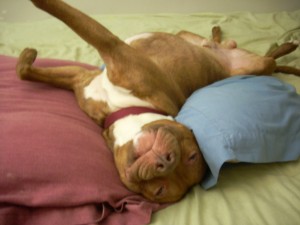 (Click on all pictures for a larger version.)
We were taking our afternoon walk, the leashed dogs sniffing the breeze and the grass, when an unconstrained Pit Bull raced upon us with a yelling man right behind.  The dog was upon us in an instant, and it snatched up Fuzzball.  Chris and I moved to protect before the killing shake.
You might think this would be a minor problem, as Chris is yet another Pit Bull.  But the attacking animal was significantly heavier and more muscular, as well as being free of a hampering leash.  My dog was being torn apart.
Less than two seconds into the fracas, and I was bitten by the aggressor.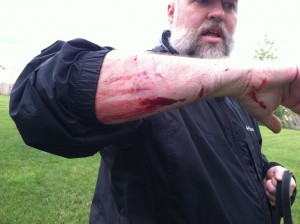 That handsome devil is yours truly, just moments after the fight.  Note the slippery nylon windbreaker I am wearing, as it saved me from serious injury.  As the jaws closed on my forearm, the material of the jacket kept the teeth of the animal from penetrating too deeply.  My arm squirted out from between the closing maw like a wet bar of soap.
Pure luck, but I'll take what I can get.  Purchasing that jacket was the best twelve bucks I ever spent at WalMart.
I wasn't seriously injured, but the bite changed the situation.  Lethal force was now the next logical step.  My gun came free of the holster.