It seems as though my past post on hunting dinosaurs is still causing some to consider the premise.  A quote from an email I received …
"So you have written about which rifles you would use to shoot dinosaurs.  What sidearms would you carry?"
Handguns fill many roles, but their main purpose is to provide a portable, go-anywhere self-defense tool.  Long guns will do better in just about every other job.
Still, it is prudent to consider what will happen if your long gun fails in some way.  Best to have a handgun holstered at your hip in case you really, really need it.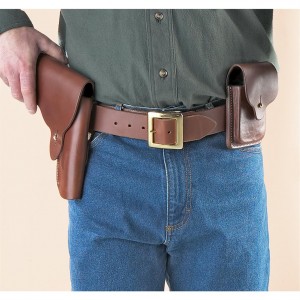 Since the premise is to go toe-to-toe with extremely dangerous game, it would be a good idea to invest in high powered handguns that pack a respectable punch.  But where is the line between "powerful" and merely ordinary?
The most common military and police caliber in the free world today is the 9mm Parabellum, and a standard pressure load with a standard weight bullet produces around 360 ft/lbs of muzzle energy.  A cartridge much admired in the United States amongst shooting sports enthusiasts is the .45 ACP, and it produces around 395 ft/lbs of muzzle energy.
And so we have a baseline for ordinary, which is a handgun producing a bit less than 400 ft/lbs of energy at the muzzle.  If we want to protect ourselves against large and dangerous game animals, we will have to do better than that.
(Please click on the handgun name for the Wikipedia page discussing that particular gun, and click on the ft/lbs numbers for ballistic information.)
Tokarev TT Pistol ( 511 ft/lbs)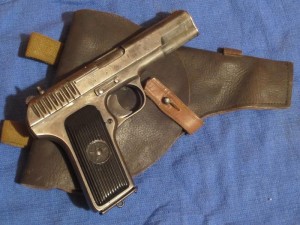 When the Communists took Russia over after WWI, they looked to modernizing the armed forces.  Revolvers, which had been the mainstay of most officer sidearms, were replaced by the Tokarev starting in 1930.  Millions were produced over the next 25 years, manufactured not only in Russia but also in just about every other country with a Communist government.  A large number of these firearms can be found on the surplus market for a surprisingly low price, with examples of perfectly functional guns going for less than $300 USD (£200).
This design has earned a reputation of extreme reliability and ruggedness, which sounds like just the thing if one is going to go running around in a sweltering jungle during a dinosaur hunt.  Most of the reliability comes from the bottleneck cartridge, a shape which is much less prone to jamming.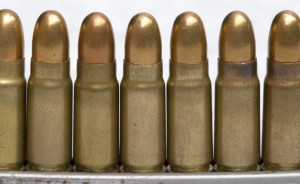 The gun fires a small .30 caliber bullet at very high speed, which has advantages and drawbacks.
The advantage is that the bullet will have very good penetration, so the chances are good that the internal organs will be reached.  The disadvantage is that the hole punched into the hide of the dinosaur will be small, so it will take longer for the animal to pass out from blood loss.  Glass half full, or half empty?
Impressive though the performance of the Tokarev might be, there are better choices out there.  The main advantage is the low cost, so an eager safari hunter can still afford a powerful sidearm even after spending tens of thousands on a fancy big game rifle.