I have noticed that police officers in the United States have discovered a hunger to shoot dogs, even if they are no threat.
Sheriff Deputy approaches a fenced in yard, only to have a 35 pound (17 kilogram) dog bark at him from the other side of the chain link.  When he pulls his sidearm to dispatch the offending pooch, said deputy shoots self in the leg.
What kind of dog was it?  A pitbull, like mine.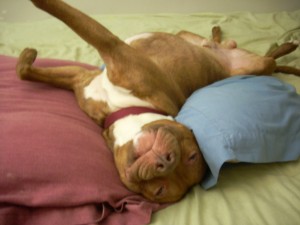 The barking terror was a female named Precious.  Click the link in order to find a local news video, where you can watch the mankilling beast happily cavort with small children.
It seems to me that the popularity of the no-knock drug raid, where police officers forcibly burst into a residence with guns drawn and shouting at the tops of their lungs, is due in no small part to this desire to wipe out family pets.  Standard operating procedure on such raids is to shoot every dog in sight as the cops thunder into the house, no matter how small or harmless the dog happens to be.