Most people are aware of the standard bullet shape.
(Please click on all pictures to see a larger version.)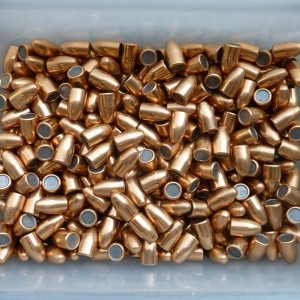 It is so common, such a well known touchstone in our culture, that things which have nothing to do with firearms are described as "bullet shaped".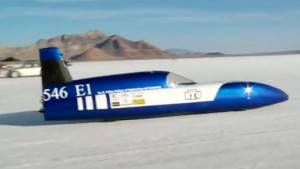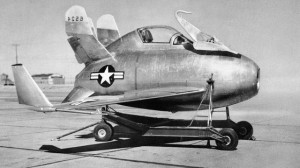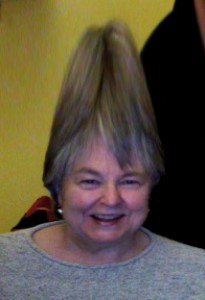 The shape provides superior aerodynamics over traditional round ammunition, allowing modern bullets to travel further than a simple lead ball.  But is that why they started to shape ammo like this?
I have no idea if it is true or just a legend, but the story is that the bullet shape was hit upon by cannon designers in order to get a heavier shell while still using the same diameter barrel.  The obvious advantage in reduced air resistance was just a happy surprise.

(Picture source.)
Bullets shaped like this have several advantages, but punching clean holes in paper targets isn't one of them.  The nose of the bullet splits the paper, allowing it to tear open in a ragged shape.  The edges are ill defined and sloppy.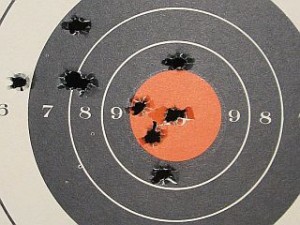 This isn't a subject of concern if you are working on improving your self defense skills, as a round striking a tiny fraction of a millimeter off center just doesn't matter.  It does matter a great deal when people are competing in handgun bullseye matches, however.
If a bullet should strike on one of the lines, the judges have to be able to carefully measure the hole made in order to see where the majority of the projectile landed.  That one extra point awarded, or one point less in the score, might just determine who goes home with the trophy that day.
And that is why we have the wadcutter bullet.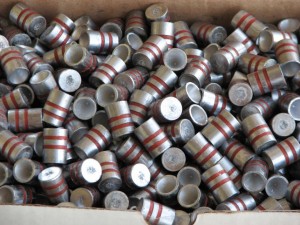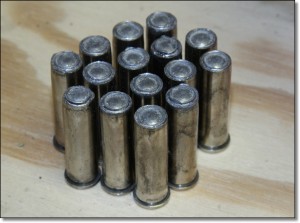 Completely flat nosed bullets.  There is no pointy nose, so the paper is snipped off very cleanly and precise.  The holes produced are very clear and sharp.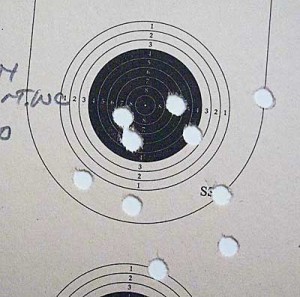 There is a hybrid round called a "semi-wadcutter".  This is pretty much a kinda-sorta pointy bullet with flat surfaces.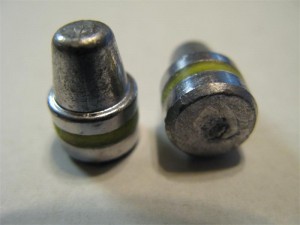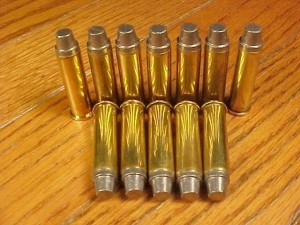 These bullets will fly farther and be more accurate at greater distance than wadcutters, but will not go as far or be as accurate at long range as bullets with the common shape.  As one might expect, they leave better defined holes in the target than traditional bullets, but the holes are not as clean and crisp as those left by wadcutters.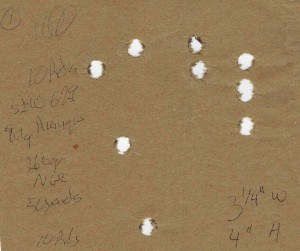 (Picture source.)
I have mentioned in previous posts that the vast majority of my students have very little in the way of economic resources.  The usual way for them to acquire a firearm is to ask their family and friends for help, so most of the guns that I see during the charity course are old hand me downs that have been tucked away in attics and storage bins for decades, relics left over from a now dead relative who used to be involved in the shooting sports.  It isn't unusual for some decades old ammunition to be sent along with the gun, which is why I am writing this post.
The question is if the type of ammunition detailed above could be used for defense, and the answer is that it certainly could.  I just don't think it is a very good idea, is all.
Modern ammunition that is properly stored pretty much does not have an expiration date.  This means that it must be kept in a cool environment, with as close to zero humidity as possible, and guarded from extreme fluctuations in temperature.
I have personally fired ammunition that was six or seven decades old without any problems whatsoever, and it should last for more than a century without degrading.  The problem is in the phrase "proper storage", as this is something that is extremely difficult to achieve for the very long term.
I stated that most of the guns my students rely on for defense are stored for many years in leaky attics, or kept in drafty and unheated barns and garages.  That old ammunition was usually sitting right next to the gun for all that time.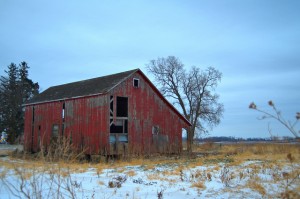 So my advice has always been that old ammunition is just fine for practice and training, but new factory loads should be purchased for defensive use.
That is all well and good, but I haven't actually addressed the main question.  Are wadcutters suitable to be used for defense?
The answer is that they certainly can be, and there is no reason why they wouldn't be as effective as any other bullet that isn't specifically designed for defensive use.  Anyone using such ammunition would be a far cry from being helpless, or less than adequately protected.
Just keep in mind that there are better choices, is all.