There are a few handguns which are marketed as being perfect for self defense, but which don't catch on in that role.  One of these is the Taurus Judge.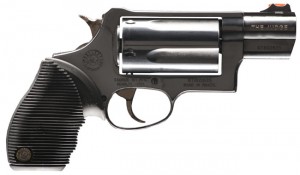 This strange looking handgun is actually a tiny shotgun, one chambered for the .410 bore.  Besides being the smallest and weakest shotgun ammo you are likely to find in your friendly neighborhood gun store, the .410 is also the only popular shotgun which is known by its diameter instead of the gauge.  That is probably for the best.
The .410 shells most widely available for sale are loaded with bird shot, which are teensy tiny pellets designed to kill very small animals without tearing up the carcass too much.  Limited numbers of people have purchased this type of handgun for concealed carry in recent years, and it is now possible to occasionally find ammunition which is loaded with more potent buckshot.  Even so, such defensive ammunition is far from common.
That was extremely fortunate for a college student named Christopher Moeller.  He was shot four times by an assailant wielding a Taurus Judge, at a range of about 25 feet.  All four rounds seem to have been solid hits, but the young man survived due to the fact that the criminal had loaded his gun with bird shot.  Even so, he almost didn't make it due to blood loss.
What is my take on the Judge?  There are certainly smaller and lighter revolvers that fill the role of an emergency defensive arm, and some of those smaller and lighter guns are chambered for extremely potent calibers.  Add in the fact that all of those other calibers are easier to find in the gun store, and usually have a lower price tag, and I would have to say that the Taurus Judge is a solution in search of a problem.