This happened some time ago, right outside of my apartment complex.  Since I am sure the news article will rot off after a time, I will mention some details.
An idling car was approached by two men, who shot the driver four times with what sounded to me like a 9mm auto.  The now driverless vehicle ended up a few dozen yards from the killing spot, stalling out after destroying a large utility box.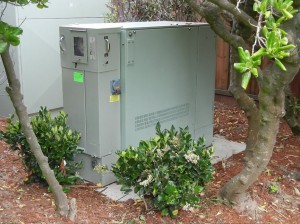 This took place right across the street from where I live, and the suspects ran through my apartment complex in order to evade the police.  It seems that they passed within feet of my front door.
Not that this had anything to do with me.  I was just climbing from the shower at the time when I heard the shots, and I paused for a few seconds with my hand on my gun to see if anyone would try to break through my locked front door.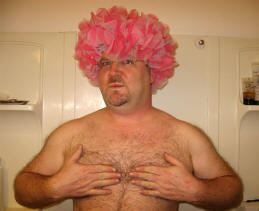 It was probably best for all concerned that they were just passing though.
I'm sure most of you, gentle readers, are wondering if I have become seriously unhinged.  Am I so paranoid that I carry defensive firearms into the bathroom in case of violent criminal attack while indisposed?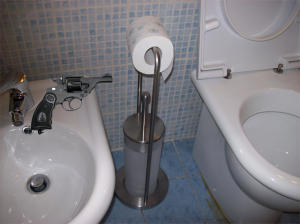 While true that I am armed in the most private of places within the home, I must confess that it is a habit I picked up during a time when I received a number of death threats from criminals who were trying to warn me off from training people who were going to testify against them.  That was more than two decades in the past, but I don't think it is a bad habit to have.
There are a number of products available which are designed to secure a firearm in the shower, keeping it snug and dry while still close at hand.  I can't recommend the best, as I have never tried any.  I merely place my defensive handgun next to the sink and cover it with a clean, dry towel while bathing so the steam from the shower won't cause it to rust.
Is this post a suggestion that you, dear reader, ought to consider going armed to the toilet?  Not necessarily.  It all depends on your own unique circumstance.
One of my students was not only the victim of a particularly brutal home invasion, but she was also confined to a wheelchair.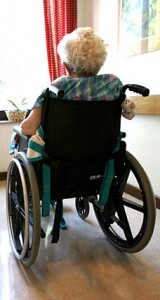 As criminals had already attacked her inside of her house, and she also suffered from reduced mobility, the bathroom was a place of extreme anxiety for her.  What if they came back, but this time she was out of her chair and in the bathtub?
I eased her anxiety by replacing the bathroom door, a flimsy interior type, with a sturdy metal exterior design.  I reinforced the hinges, reinforced the striker plate next to the doorknob, and installed a deadbolt on the inside.  I wasn't too happy about the frame which supported the door, but wasn't equipped to tear apart the walls in order to replace the framing studs.  Even so, by the time I was done the bathroom door was only slightly less formidable a barrier than the front door to her house.  Since she was going to make sure to take her own defensive handgun into the bathroom, along with a cell phone to summon the police if need be, I figured it was a pretty good job.
So why do I take my defensive arm in to the bathroom with me, since I do not use a wheelchair and the days of death threats are half my life in the past?  The only thing I can say in my defense is that you wouldn't be asking that question if you happened to live in my neighborhood!