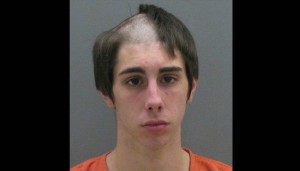 According to this local news channel, two young men staged a home invasion in order to attack a third man.  The weapons used were a baseball bat and a pickaxe.
Why were these two guys, aged 16 and 19, so angry?  Seems one was dating the ex-girlfriend of the victim.  When they found out that the former boyfriend was flirting with his ex via Facebook postings, they decided it was time for a bit of aggravated assault!
So why the odd hairdo?  It appears that the 19-year-old realized that the cops were going to come calling, and he was caught in the act of shaving his head as a kind of redneck disguise.
Didn't work, obviously.