I recently made my way to the cineplex to catch the latest dinosaur film.  I don't think I'm revealing any spoilers when I say it turned out just as expected.  Extremely dangerous beasts are poorly contained, they get loose, and scores of innocent people lose their lives.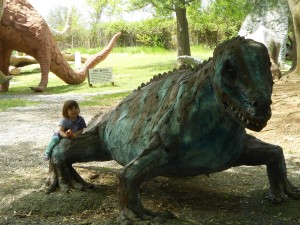 The few times we see guns being used, they are effective only against the smaller fiends.  What type of firearms are deployed against the larger lizards?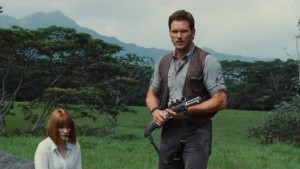 According to this website, the hero uses a rifle from gun manufacturer Marlin known as the Model 1895SBL.

As one would guess from the 1895 in the name the design is pretty close to rifles used back in the cowboy era, at least so far as handling and operation is concerned.  The ammunition used is also a throwback, being the .45-70 cartridge that first appeared in 1873.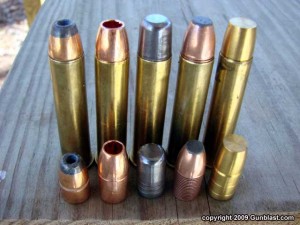 (Picture source.)
This particular cartridge is robust, powerful, and of a large caliber.  It is certainly capable of harvesting any large game found in North America, but I think I would be more comfortable with a gun that has a bit more punch when going up against something the size of a T. Rex.
For many years, the most powerful rifle cartridge that was commercially available was the .460 Weatherby Magnum.  Designed to be used as a "stopping rifle" for hunting guides in Africa, the concept was to make a cartridge that would drop a charging animal just before the guy paying for the safari was stomped into red paste.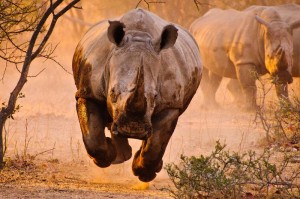 This would most certainly be very useful if confronted by a surly T. Rex.
Capable as the .460 is, I am an old school kind of guy.  If I could afford it, I would be equipped with a double gun chambered for the .600 Nitro Express cartridge.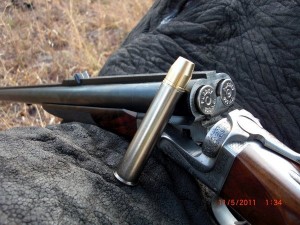 There are no advantages to be gained if I do, I just like the look and feel of those old big game rifles.  Besides, it was the favorite arm of people who play in my Call of Cthulhu games.  If the round is good enough to be used on shambling horrors from beyond this reality, it should be plenty good enough to put down a few overgrown lizards.