The headline reads "Indiana Woman Uses 'Cosplay' Combat Skills To Capture Intruder With Ninja Sword".  (Hat tip to Glenn.)
The author of the essay is, quite obviously, an idiot.
Read the news story to see that the woman in question, Karen Dolley, is a member of the Society for Creative Anachronism.  This is a non-profit educational organization of international scope, dedicated to researching and selectively recreating aspects of European societies as they were prior to 1700 AD.
So why do I think the term "cosplay" is insulting?  Well, most people hear the word and think of this …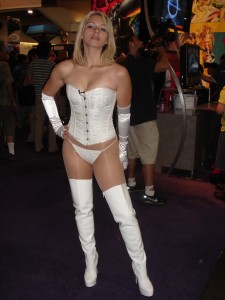 … and a more realistic image would be this.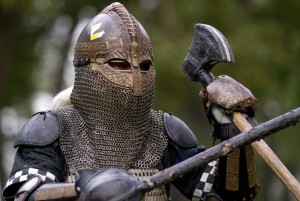 Does this man that SCA training is useful in a real world setting?
Not directly, as it is focused on the use of armor.  That having been said, any sport that requires a degree of physical fitness is useful to prepare the individual for life-or-death situations.  It certainly seems to have given fair value to Ms. Dolley.
If you are interested in more realistic and less stylized European martial arts, I think that this YouTube channel will help.  Lots of good info, and the person who makes the videos is personable.