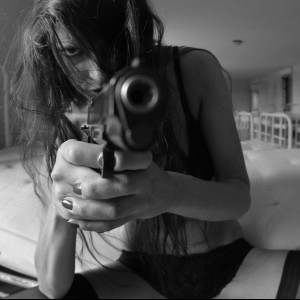 (Click on the picture to view the largest size.)
The handgun appears to be a 1911 style firearm.  Judging by the dimensions of the barrel, it would appear that the caliber should be around .45 inches.
And yet we can see another, much smaller hole inside the barrel.  This opening also seems to be a part of the frame itself, with the barrel being nothing more than a bit of ornamental bling glued on to the gun.
Can anyone say what is going on here?