The answer to the question posted above is rather simple.  Pocket pistols are handguns that are small enough to be carried around in your pocket.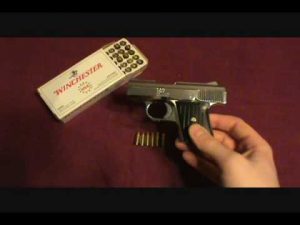 The quest for small handguns that were easy to conceal has been around for centuries.  The first successful design that was cheap enough for purchase by someone of average income has to be the Deringer, otherwise known as the derringer.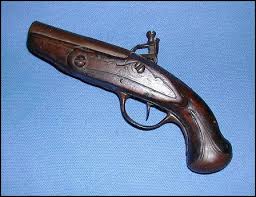 Extremely short barrel, extremely small grip, extremely short range, but still chambered for an effective caliber.  You might only be able to hit a violent criminal attacker if they are within leaping distance, but you had a good chance of putting them down if your aim was true.
It is the large caliber that distinguished the original Deringers, as most pocket pistols were chambered for teensy little calibers that were less than potent.  When revolvers became popular, manufacturers were still offering firearms chambered for small and underpowered calibers in an effort to keep the guns small and light enough to be unobtrusively carried everywhere.  One sterling example is the Velo Dog revolver.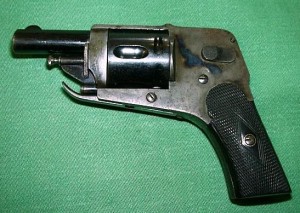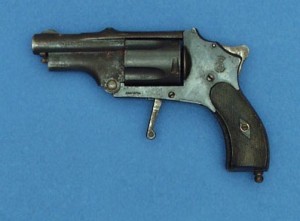 Riding through the countryside on bicycles used to be a great deal more popular then it is today.  As bicycles and the like were once known as "velocipedes", you can guess by the name that the Velo Dog revolver was designed to be carried by bicycle riders in order to defend against any overly aggressive canines that might be encountered during a bucolic pedal-powered interlude.
Velo Dog revolvers and their ilk were very small, very light, and presented a snag-free profile with the folding trigger swung up out of the way.  They were perfectly designed to be concealed handguns that could be carried anywhere.  They were also chambered for cartridges that were of marginal use.
This drawback was addressed with the introduction of bulldog revolvers.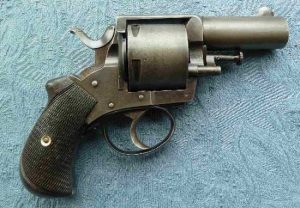 Very short barrel, very short grip, only effective at very short range, yet chambered for a potent caliber suitable for defense.  This is kind of like a revolver version of a derringer.
So one can see that the desire for small, concealable handguns is pretty much constant.  Another constant is the trade off between small and concealable versus effective.
Nothing has changed in modern times.  The most popular pocket pistol today are probably tiny autoloaders chambered for the puny .25 ACP cartridge.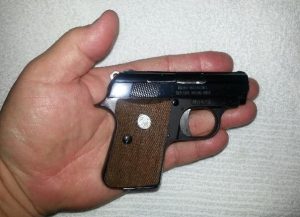 Small frame revolvers chambered for the .38 Special cartridge are very popular, and a firearms company named Charter Arms even produces a bull dog revolver chambered for more potent cartridges.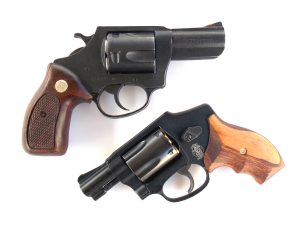 Recognizing the desire for smaller, more concealable handguns, most gun manufacturers offer different sizes of the same gun.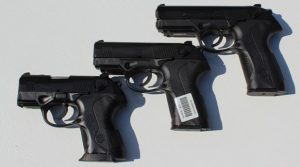 (Picture source.)
The picture shows the three sizes available for the Beretta Px4 Storm, with the smallest being called a "subcompact" size.  Most subcompact autoloaders would fit the bill as being pocket pistols.
So what is the lesson to be learned from all this?  If you want to put some bang in your pocket for emergencies, you might as well make sure that it delivers a decent punch.