A little something to carve the turkey.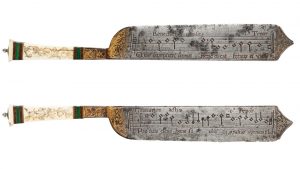 A notation knife, with music and song etched into the blade, circa 1500 CE or so.  One side contains the grace, while the other side has a song of thanks.
The knife pictured above is housed at the Victoria and Albert Museum in the great city of London.  Click this link to be taken to the V&A website page that talks about the knife.  You can even listen to modern reproductions of the songs, kind of like listening to an echo from half millennium ago.