Know what a buckler is?  Small shield used in swordplay.  Instead of using it to cover up, the combatants slap the swords of their opponents out of the way.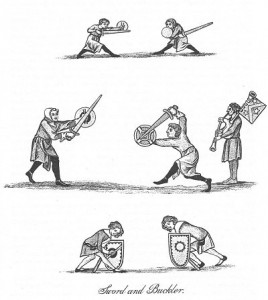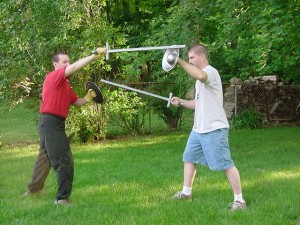 It was a fully functional weapon in its own right.  I doubt anyone would be too thrilled to be punched in the face with a disc of steel.
knirirr mentioned this photo page some time ago, but I have just now found the time to take a good look at the pictures on display.  It is of a quarterly sword bout called The Grand Assault at Arms, an invitational event that I believe is held in the United Kingdom.
The photos are fascinating to someone like myself, who is interested in historical martial arts.  I am not sharing any with you here because the people who set up the Flikr account don't want any downloaded, and I am respecting their wishes.
The mix of combat styles and weapons is heady stuff.  As one of the attendees said, "People can fence with whatever weapons they like, so long as their opponent is consenting!"  I think this is the first time I have seen pictures of bucklers used in an actual match.
Wish I could attend.  Maybe if my ship comes in!