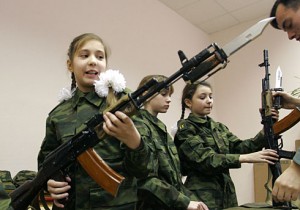 Most people would think the rifle is an AK-47, which is perfectly reasonable.  Sure looks like one, after all.
It is, however, an AK-74.  The main difference is that the ak-47 is chambered for a .30 caliber round, while the AK-74 uses a Russian copy of the 5.56 mm round US and NATO forces use.
How can you tell the difference? By the orange magazine.  The Russians deliberately designed the new AK-74 magazines to be visually different in order to avoid mistakes when grabbing reloads.