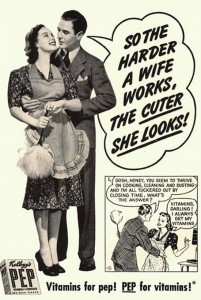 (Picture source.)
At first I thought this was some sort of ad for one of those strange fetish websites that are scattered about.  Seems reasonable, what with the feather duster she is holding and all.  And what is the male doing with his left hand to put such an odd, squinty-eyed smile on her face?
But, no.  Instead it is an actual vintage ad for a cereal that was popular back in the 1930's and 1940's.  The images above were meant to be wholesome and comforting, instead of provocative.
The Internet has ruined our sense of propriety.  Someone deserves a spanking for that.