A comment left on this essay has prompted me to bore the crap out of you with yet more verbiage!  Talk about recycling!
In the previous post, I mentioned that one of my students chose a Kel-Tec P-3AT for her private defensive arm.  This is a handgun chambered for the popular .380 ACP cartridge, and yet is designed to be as small and light as possible.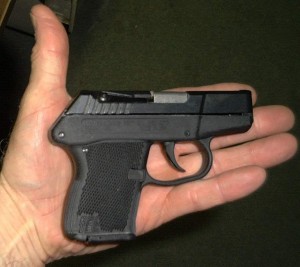 It seems that reader LBD was kind enough to ask a few questions about the P-3AT, as well as share some of her concerns.
"How much do these generally cost?"
The P-3AT retails somewhere around $300 USD.  You might be able to find one for a few dollars more, or your local gun store might mark it up a bit.  I wouldn't buy one if it was more than $350 USD myself, but you might not have a choice if you happen to live in a place where there are lots of gun control laws on the books.  This tends to drive the price up in an unreasonable way.
"I have a KelTec P11, and I can't use it because the trigger pull is too far for my hand. I'm a woman, but I'm not tiny, but somehow I can't get the trigger to pull back all the way with one pull. Does this gun have an easier trigger pull because of its small size?"
The gun that LBD currently owns is this one, which is very similar to the P-3AT except that it is a bit larger, a bit heavier, and chambered for the more potent 9mm Parabellum cartridge.  A picture is below.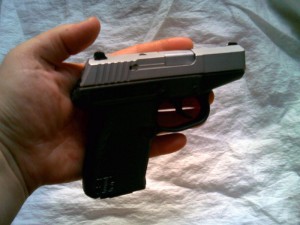 That isn't the same hand in both pictures, but they seem to be pretty close in size.  Note how the P11 is large enough to jut past the bottom of the hand, while the P-3AT in the first picture does not?  That is because the larger gun is about one inch higher from top to bottom, and about half an inch longer from the back of the slide to the muzzle.
So the gun LBD owns not only fires a more powerful round, it is larger and heavier as well.  But she is having trouble pulling the trigger all the way to the rear so the gun will go bang.  Why would that be so?
Both the P11 and the P-3AT are designed with as few external control as possible.  This means they don't have a manual safety lever, or a hammer you can access.  To increase the safety to the operator, as well as to try and reduce negligent discharges, both guns have a somewhat heavy and long trigger pull.  This was to try and make sure that someone had to really, really want to shoot their gun before the cartridge went off.
So the trigger has to be moved a relatively long way before the hammer falls and the primer is lit off.  That is part of the problem LBD is having.  The other is that the trigger weight is pretty high for her gun.
Hey, hold up a minute!  Trigger weight?  What the heck is that?
Manufacturers determine the amount of muscle power you have to apply to the trigger by taking an empty gun, and pointing the muzzle at the sky.  They then tie a string to the trigger, and keep adding more and more weight to the string until the hammer falls.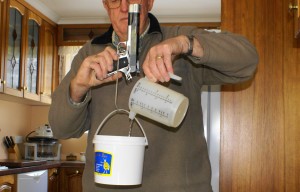 (Picture source.)
The gentleman in the picture was a hobbyist from Tasmania.  When the gun goes click, he will weigh the water bucket to find out how much pressure needs to be applied to make everything work.
Okay, so I mentioned that the P11 has a rather heavy trigger pull.  Is the P-3AT any better?  Actually, it is!
The P11 has a trigger pull of 8.5 pounds, which is pretty hefty.  The P-3AT has a trigger pull of 5 pounds, which is pretty close to the industry standard.  LBD should therefore find that the smaller gun has a trigger that is easier for her hands.
Problem solved, right?  Except that I'm not convinced that a high trigger weight is the problem here.  Remember how LBD said that she was having trouble getting the "…trigger to pull back all the way with one pull."?  This sounds like the problem is with something called stacking.
Guns are mechanical objects, which means that they have metal surfaces which are supposed to rub up against each other.  Usually these surfaces are smooth, but there could be rough spots that increase friction.  If there are rough areas in the trigger assembly, then it would feel as if the trigger was scraping over some sand or grit.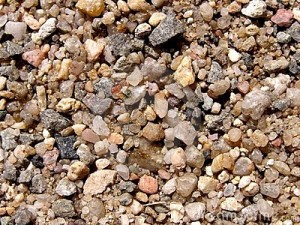 When LBD said she has to try more than once to get the trigger pulled to the rear, it sounded to me as if the trigger would travel a certain distance before the amount of force needed to keep it moving would suddenly increase.  At this point, she would have to adjust the amount of muscle her finger was applying before the trigger would start moving again.  It would seem as if it took two actions to actually get the gun to fire.
Should this be the problem, is there anything LBD can do to get her gun working like it is supposed to?
If she has purchased it recently, then she can take it back to the gun store and explain her problem.  They might exchange it for another, one that is hopefully in better condition.
If the gun store can't help her,  all is not lost.  Kel-Tec has a lifetime warranty for original owners.  If LBD purchased her gun from a gun store, and not from an individual, then she can talk to the manufacturer and make arrangements in order to get the problem repaired.
Another option is for LBD to hire a gun smith to take the gun apart, polish the load bearing surfaces, and then reassemble the firearm.  I have no idea how much this would cost, as you would have to ask a gun smith for their prices.
The second-to-last possible route is kind of risky unless someone happens to be mechanically inclined.  This is to take the gun apart at home, and then make some adjustments to the trigger pull weight.  Considering the substantial cost of even bargain handguns, I would very strongly suggest that this not be done unless someone is very confident of their ability.
So that is the next-to-last option.  What is the last?  Why, to buy a whole new gun!  But this time I hope LBD is able to find one for rent at the shooting range so she can try it out before spending her hard earned.
If any of my extremely learned readers would like to offer their suggestions, please feel free to leave a comment!