Some years ago, I received an email from a reader with an interesting question.  My memory is a bit faulty, but I'll try to reproduce it as accurately as possible below.
"When driving to the store, do you ever pull through the space?  That way you'd be ready to GO if the situation ever turned TACTICAL and HOT!"
What my anonymous reader was asking isn't immediately clear for most, but I took it to be a question as to how I park my car when going about my usual daily routine.  It appears that he was interested to find out if I parked with the front bumper facing the aisle, or if I parked with the front bumper nestled against an obstruction.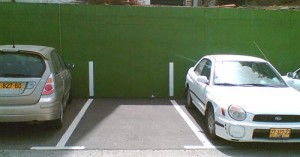 The picture above is a good illustration.  The car on the left is situated with the front against a cinderblock wall.  The driver will have to put the car into reverse, and carefully back out of the parking space before he can even think about leaving the parking lot.
The car on the right is placed so the front bumper is facing the aisle.  All the driver has to do is start the engine and put the car into gear before he can simply drive away.
It is certainly easier to avoid backing up before leaving the parking lot, but why would the author of the question be so concerned about how I park my car when buying dog food and peanut butter?  Apparently he thinks I should be constantly concerned about making a fast getaway in case a vicious gunfight should erupt in the Piggly Wiggly parking lot!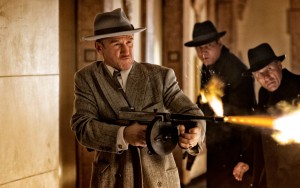 Is this a legitimate fear?  Should I worry about rival gangs shooting it out amongst the inert cars at my local shopping center?
Although it is true that violence can suddenly spring upon anyone, at any place or any time, I think it is much more likely that I will have to foil a mugging or strong armed robbery than be caught up in a full-on gun battle.  The instances where a single mugger approaching someone while armed with a Saturday Night Special are very infrequent as it is.  The chances of finding myself in a war zone here in Columbus, Ohio are even more remote.
What is the bottom line?  If my reader lives in an area where massive gun battles are relatively common, then I would suggest that he have his groceries delivered.