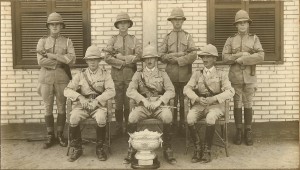 (Click picture for larger version.)
I came across this picture on the Intertubes, and thought it was very interesting.
Okay, so I thought it was a compelling image.  What is the story behind the photograph?  I have no idea.
If I had to speculate, and I am about to speculate even though I don't have to, I would say that it is a British Army pistol team circa 1900 or so, posing with the trophy they won.  That is why I am hoping that someone reading this is interested in the history of British uniforms.  I'm certain there is a great many details to be gleaned from the insignia and gear that would help nail down the where and when.
Lastly, please take a look at the officer seated on the left side of the photograph.  Note how his hands are blistered and peeling.  Something tells me that he was recently operating in a desert, where the only part of his pale skin exposed to the sun was his hands.