The laws in the United States concerning black powder firearms are a bit odd.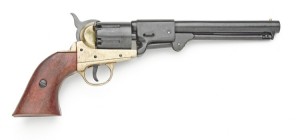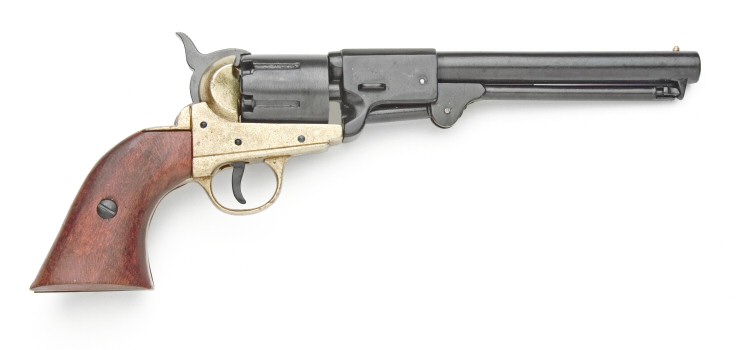 They are not considered to be actual firearms in many states, so they can be purchased without background checks or waiting periods most places across America.  One can even buy a cap-and-ball handgun through the mail and have it shipped to your door, as long as the buyer is not unlucky enough to live in one of the few places where such activity is illegal.
Some years ago, a reader suggested  that everyone interested in armed self defense should take the time to learn the basics of using black powder arms.  He said that it was possible anyone could be disarmed by the police if they were forced to defend themselves from violent criminal attack, as the authorities routinely confiscate any weapons used in the incident until after the investigation is concluded.  A cap-and-ball revolver purchased the very same day at a sporting goods store will allow the victim to still be able to legally fend off another attack while waiting for the police to release their property.
Are modern reproductions of antique handgun designs suitable for self defense?  I cannot say, as I don't have any experience with such devices.  Any opinion I might voice would be nothing more than speculation, and you don't come here for that.
Lucky for all concerned, a good friend of mine from the United Kingdom named Milo has been putting his own black powder revolver though its paces.  He recently posted two pictures after a trip to the range.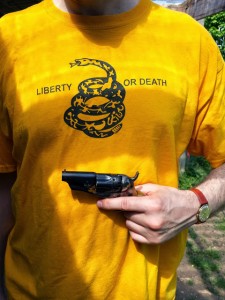 Considering his apparel, one would be forgiven if they assumed the picture was taken in the US.  But no, this image comes from the UK.  Milo calls the Tee his "hoplophobe-baiting shirt".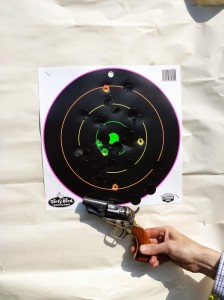 The target was set at ten yards, and all shots were in the black.  Not bad at all!  Particularly considering how chopped down the gun is, and how rudimentary the sights are.
Enough blather from me.  What are Milo's thoughts?
"I thought that the comparison of the shirt and the target pictures indicated that the gun would have performed accurately enough as a defensive arm. Unfortunately, there's a high misfire rate (the caps drop off before firing, or spent ones jam the mechanism), so I wouldn't want to trust that gun for defence without a bit of tweaking.
"Of course, for me it's just a recreational target arm, so these concerns are less important today, and guns like this seemed to suffice for those who used them back in the 1860s."
So it looks like they would work, but modern arms are better.