Some time ago, I posted an essay concerning how bullets fired from derringers can tumble in flight.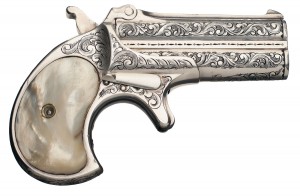 Long time reader Fruitbat44 left a comment that has been nagging at me.
"Please correct me if I'm wrong, but I always thought that a bullet that tumbled would do more damage to an attacker than one which didn't."
What Fruitbat44 is referring to is a claim made during the vicious and heated debate that ensued when the US military started to replace their front line battle rifles with the M16.

The new rifle was chambered for the 5.56 NATO round, which produced around 1,700 foot/pounds of muzzle energy.  This was to replace the 7.62 NATO cartridge, which produces about 2,500 ft/lbs of muzzle energy.  They were going to go from bigger to smaller.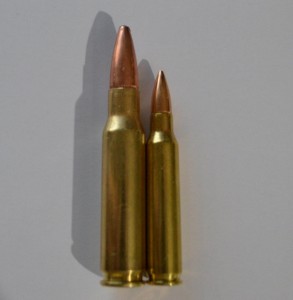 The reaction of most people who had been in combat was swift and decisive.
HOLD THE PHONE!  The US military, in the middle of a war, was going to replace a proven and battle-tested rifle with one that was weaker?  Who the hell thought this one up?  THEY WERE SENDING OUR GUYS OUT TO DIE!
Not so, proponents of the new rifle said.  The new ammunition was designed to tumble, dontchya know.  It didn't matter that it was smaller and weaker than the old ammo, because it produced even bigger wounds!  The tumbling bullets chewed through a human body like a buzzsaw meeting a damsel!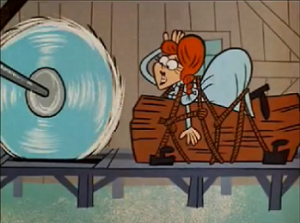 (Picture source.)
There is also no doubt that 5.56 rounds produce some impressive wounds for their size.

So the bullet from an AR design tumbles while it flies through the air?  Actually, no.  It flies straight and true in the air like any accurate round, but tries to swap ends when it enters something soft and squishy like a human body.  When the bullet turns sideways, the stresses produced tend to break up the round.  It is very common for 5.56 rounds to fragment into at least a few fragments.
So why does the bullet do this?  Have no idea, actually.  Depends on who you talk to.  Some people say it is due to the shape of the bullet, others say it is the way the bullet is balanced, and still others say that every bullet does this and the 5.56 is no different.  I'm just pretty sure that it does.
If anyone has the inside scoop, please share in the comments.  I'm going to go to the range and fire a few rounds.