What springs to mind when you view the following pictures?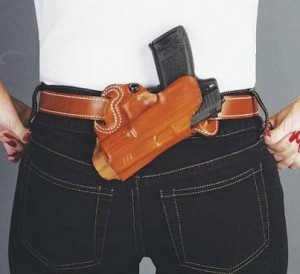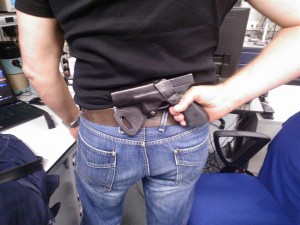 Those of you interested in armed self defense would say "Ess-Oh-Bee!  Small Of Back holster.  I mean, DUH!"
That is certainly true.  The two holsters shown are designed so a defensive handgun can be carried in the rear of the body, at the center of the waist.  But what is also true is the two people who are choosing to use such holsters must be reasonably fit, without mobility or flexibility issues.  Otherwise they wouldn't be able to use such holsters.
Were all of my students disabled, or suffering from some sort of reduced physical capability?  Not all, but a sizable percentage certainly were.  Some were fully capable of performing all standard tasks, but some quirk of body shape kept them from using some of the most popular holster designs.
What I would like to do now is explore some of the ways that disability, age, body shape, or chronic physical ailments guided the choices my students made in how they carried the guns they needed to fend off violent criminal attack.