One of my major frustrations with the majority of my students s the high regard they hold for handguns, and the lack of interest they displayed for long guns.
Oh, don't get me wrong.  There are plenty of good things I can say about handguns.  The only problem is that comparable long guns are much, much more powerful than their handgun counterparts.  Handguns are the perfect size for go anywhere emergency defense tools.  A carefully chosen long gun is perfect for just about everything else.
But why would that be?  How much more powerful are long guns when compared to handguns, anyway?
To illustrate what I mean, let us take a look at the main US infantry battle arms for both World Wars and Korea.  These were the M1 Garand rifle, and the M1911 handgun.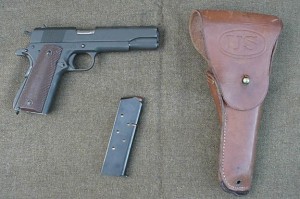 (Pictures source.)
The rifle is chambered for the .30-06 Springfield round, while the handgun is chambered for the .45 ACP cartridge.  This means the rifle produces about 2,800 ft/lbs of muzzle energy, while the handgun delivers a mere 350 ft/lbs.
There are a great many factors that contribute to the effectiveness of firearms, of course, just as there are a great many loads available for every popular cartridge which changes the performance of the gun.  But comparing muzzle energy is a fairly reliable quick-and-dirty method, and it is very clear that this particular long gun far outclasses that handgun.
Okay, so what about the present day?  New weapons have replaced the old and boring guns that are pictured above.  What are the standard infantry weapons of today, and how do they stack up?