July 12th, 2014
Revolvers using percussion caps were all the rage during the American Civil War.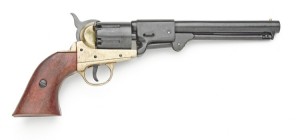 It had only been a few decades since they had appeared, and most handguns up to that time were single shot affairs.  But now you had six shots before reloading!  Amazing!
It must have seemed to the people at the time as if they had Thor's hammer in their holster.
The biggest problem with cap and ball revolvers, however, is that it took a great deal of time to reload.  Loose powder had to be measured and poured into each chamber, with a round lead bullet forcibly pushed down on top.  After all of the chambers were stoked up, then percussion caps would have to be fitted to the rear of each.
Sometimes the caps would not want to stay put, and so they would have to be carefully crimped.  Even so, it was common for percussion caps to come loose.  This would not only mean that one of the loads would not go bang, but the cap could also work its way into the mechanism of the revolver and jam the cylinder to a stop.
That is why the introduction of cartridge technology was greeted with joyous glee by anyone who used a handgun.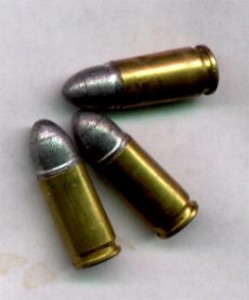 The powder, bullet, and primer all in one convenient package?   Just slip a new one into the chamber to reload, instead of measuring powder and forcing bullets into cylinders?  And, what is even more amazing, no percussion caps going walkabout in the guts of your gun so it doesn't work?  Give me some of that!