In a previous post, there was a question about how bullet shape increases stability.
It all started when Steven first mentioned the ideal bullet shape for stability as it cuts through the air …
"Aerodynamically, the ideal shape is blunt in the front and strongly tapered in the rear. (I know that's counterintuitive, but it's true.)"
This prompted long time reader Fruitbat44 to ask a question …
"So that's why you get target shooters loading wadcutters?"
Okay, let us sort out the issues at hand.  What are these "wadcutters" of which Fruitbat44 speaks?
The answer is that they are bullets that are very flat at the front.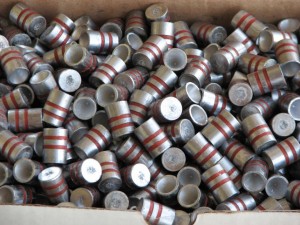 What is the hollow you see in some of them?  Wadcutters may have a little cup shape scooped out of the back so the expanding gas from the propellent will cause the sides to swell out in order to engage the rifling in the barrel, but the front is kind of like a physical map of Kansas.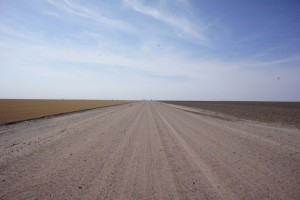 Cartridges loaded with wadcutters have a very distinct look about them.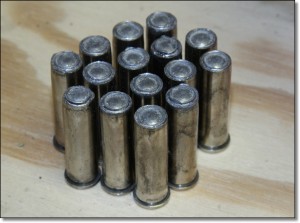 Okay, so we have handgun bullets that are flat flat flat.  So what?  Why use them?
The answer is provided by knirirr, yet another long time reader …
"I always thought that it was because they punched nice neat holes in the target which make it easier to score; the wadcutters I have certainly do that (they are flat at both ends)."
That is exactly true, as the flat face of the bullet will punch out extremely neat holes when it strikes a paper target.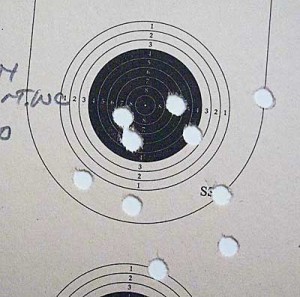 Compare this to the ragged and indistinct impressions left behind when a traditional pointed bullet passes through a paper target.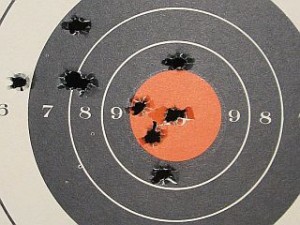 Wadcutters are thus most popular amongst serious handgun target shooters, as the clean holes punched out of the target allows for much easier and more precise scoring.  Is that hole to be scored as an 8, or merely a 7?  Wadcutters take a lot of the anxiety out of judging bullseye target competitions.
So that is why modern day shooters might have a few hundred cartridges loaded with wadcutters in the gun safe.  But a dim memory prompted Fruitbat44 to make an observation …
"… I dimly record reading about some handloaders using wadcutters for self-defence load."
It is true that there was such advice floating around at one time, but to explore that I think it would be best to take a brief history lesson.