June 4th, 2014
Interesting question.  But first we have to define some terms.  What are these hollowpoints of which I speak?
Most people are familiar with standard ball ammo.  That means the bullet, the part of the ammunition that comes flying out of the gun at a really high rate of speed, is shaped like a fire plug.  (Please click on all pictures for a larger version.)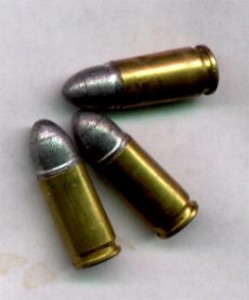 The picture above shows entire cartridges with lead bullets at the tip.  When I was reloading my own ammo, I would buy large boxes of copper jacketed bullets.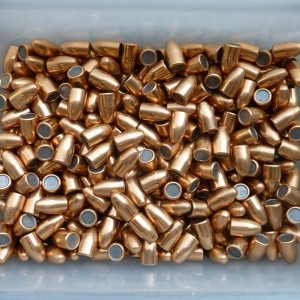 They don't look like little round balls, which can throw you a curve when people start talking about "ball ammo".  What they mean by that is just standard ammo, nothing special, totally boring stuff.
Hollowpoint ammo use bullets that have the tip scooped out.  There is one on the right in the picture below, standing next to a ball cartridge.